PARKING DETAILS 2022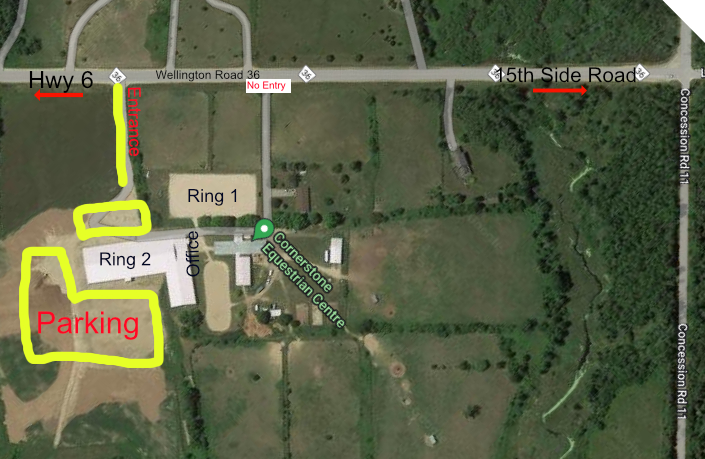 JUMPER & HUNTER
Schooling Show
*3 or more riders required for the class/division to run
10 or more riders per division for prize money to be awarded, >5 alternate payout5
(divisions may be combined/pinned together to acheive the minimums above)
***$ Jumper Derby and $ Hunter Classic - you must attend one of the other shows or pay an alternate entry fee (more details to follow).
Saturdays
$Money Prizes for Each Division
Champion ($40) and Reserve ($20)!*5


( LeadLine to receive ribbion/prizes only)
Click to See Our Professional Ring & Jumps

VISIT https://horseshow.website (Entries Page) for the Order of the Classes / Schedule for the Day and up to date prices!
Jumper Divisions (3 classes each)**

1) Starter Division (18" - 2' max)

2) Jumper Sec 1 (2'3" max)

3) Jumper Sec 2 (2'6" max)

4) Jumper Sec 3 (2'9" max) - if enough interest a 3' course may be set

Divisions may be split or combined depending on number of entries.

2 "Table A" and a "Table C" class will be held per division.

Hunter Division

1) Hack (3 flat classes)

1b) Lead Line - Good Grooming, Walk, Walk/Trot

2) Beginner (w/t, w/t/c, over x's 1 & over x's 2)***

3) Green Hunters (Flat class, 2-3 over fences at 2')

4) Novice (Flat class, 3 over fences 2'3" max)

5) Open Hunters (Flat class, 3 over fences 2'6" & 2'9" judged together)

NOTE: Ticketed Schooling round will be available for $15, NO SCHOOLING ROUND FOR BEGINNERS.

which will be run as a single unjudged round.

***Beginner divsion for 2019+ over X's will now be a reduced course (4-6 jumps only)
Follow us on The horseshow.website site for updates on timings of other classes. PLEASE CHECK WEBSITE 1-2Days Prior for updates; and throughout the show day for progress updates.
Day of: a $30 per entry fee will apply - INCLUDES ALL TAX) - $20 per class ($15 for Beginner Hutners), Lead Line FREE pre/day of. $20 admin fee per entry (however, please enter per horse/rider combination so that points are calculated properly). *** NOTE: Prices subject to change without Notice. See Entry Form for up-to-date prices.
1. To receive the Pre-entry price, the entry form must be received by CEC as per the online system posted late date.
2. Full Division means you are entered into All Classes for the indicated division.
3. All Taxes are included in the above fees
4. You must be entered into ALL classes in a division to qualify for Champion/Reserve awards.
5. Greater than 10 entries per class avg required for Class/Division Prize Money! Greater than 5, Payout is less; $40 champ, $20 reserve. CEC can change prize money payout amounts without notice at its sole and absolute descretion.