"Building Solid Foundations for Horse and Rider."
Profile:
Cornerstone Equestrian Centre was established on September 1st 2009 by Marc and Andrea (owner/operators) who have over 48 years of combined experience working with horses. Notably: Marc has shown on the 'A' Circuit with Kim Kirton and Andrea on the Trillium Circuit with Auriel Haliday & Mary Courtney (formerly of HSE). Our goal is to provide a fun, family orientated and safe atmosphere for people of all ages and skill levels (whether you are someone who just comes to the barn to spend time with horses and "hack around", or someone that wishes to compete and go for the Red Ribbon (Blue for you Americans ;)) We pride ourselves in "Building solid foundations for horse and rider!". See the Board section for more details on the facility, or our Lessons page for details on taking lessons.
Primary Coach: Andrea Reid
Andrea has been teaching horseback riding for more than 20 years (2016); combined with her considerable experience teaching riding, she is a certified elementary teacher. Being a teacher helps give Andrea the ability to adapt to each students different learning needs for a more rewarding experince for both horse and rider.
Dressage Coach: Philip Parks
Philip began riding at an early age and as a teenager he turned his focus to competitive dressage. In the year 2000, after graduating from high school, Philip moved to Europe to train with Dutch Dressage Team member Johan Rockx and his wife Penny, winner of numerous Grand Prix titles for Canada. For nearly a year and a half, Philip worked with Penny and Johan to improve his skills as a dressage rider. On an average day Philip rode up to eight horses, ranging from young horses being started under saddle to Grand Prix champions. During his time in Europe, in addition to daily training, Philip had the opportunity to compete in the PAVO Cup, a prestigious competition for young horses in the Netherlands.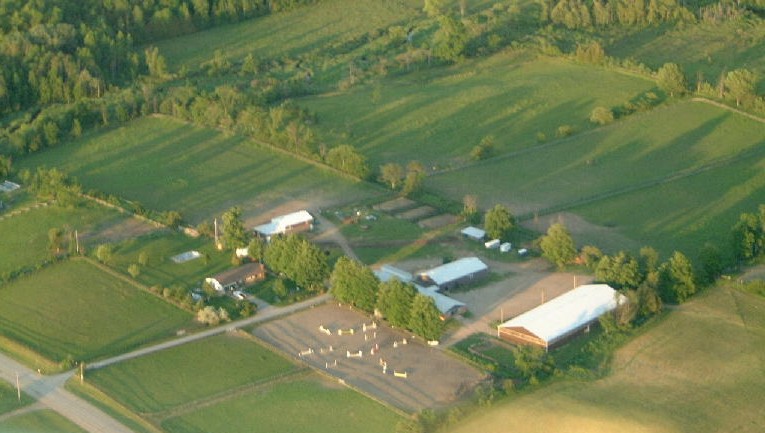 Contact:
See Contact Us page.
GPS Coordinates (43.29.5 N by 80.4.2 W):
43 deg, 29 min, 5 sec, by
80 deg, 4 min, 2 sec
Location:

View Larger Map / Get Directions
Farrier / Blacksmith:
Mark Payne
Veterinarian:
Dr. Laura Frost of Halton Equine Veterinary Services (HEVS.ca).